GCBO May news - Our Vision is a healthy ecosystem with abundant space for birds to survive and thrive around the Gulf of Mexico.

May, 2016
Thank You Spring Fling Volunteers!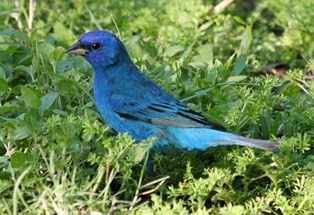 Once again April has come and gone and our Spring Fling event is finished. It was a great season for birds and it was made all that much greater by the wonderful volunteers who helped us by hosting at the bird house at the Quintana Neotropic Bird Sanctuary. We just wanted to give them all a big shout out and say THANKS, we couldn't have done it without you!
---
Thanks To Pete & Peggy Romfh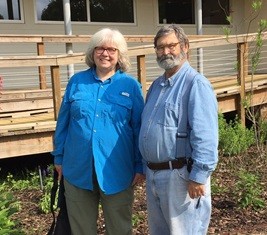 We wanted to send out a special thank you to Pete & Peggy Romfh for their outstanding efforts to organize, coordinate, and maintain our Spring Fling event at the Quintana Neotropic Bird Sanctuary. Pete & Peggy did everything for this event and those of us at GCBO who have organized it in the past know how much work that is! Thank you so much Pete & Peggy for all your hard work. Spring Fling was a big hit and I'm pretty sure everyone came away with a good experience.
---
It's Time For Summer Bird Camp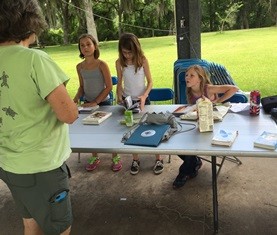 We have developed a full week with many fun games and learning activities for our weeklong Summer Bird Camp. This year camp will be held June 6-10 from 9:00am to 1:00pm each day at the Gulf Coast Bird Observatory sanctuary in Lake Jackson. Enrollment is limited to allow each camper a special experience with lots of hands-on involvement and discovery. Early bird registration fee is $125 and ends May 15. The regular fee is $150 with some scholarships available. Reduced fees apply for families with multiple campers. Regular registration ends June 1st. Please e-mail Reba with questions or to have the registration forms sent to you.
---
Beach Nesting Birds Project Gears Up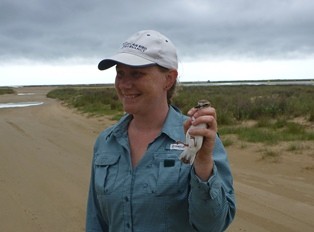 Since 2012 we have worked with American Bird Conservancy on a Beach Nesting Birds Project which has included an outreach program at boat ramps, a Public Service Announcement, and monitoring the skimmer colony at Dow among other things. This year we have added a very important component and that is monitoring nesting Wilson's Plovers and Least Terns at Bryan Beach in Brazoria County and the Matagorda Bay Nature Park in Matagorda County. Amanda Anderson, who previously worked with us on our American Oystercatcher project, is running the show for this important work. Amanda will be monitoring nesting plovers and tern at both sites, color banding birds so we can tell the pairs apart, putting up symbolic fencing to keep people from disturbing the birds, and doing outreach on Saturdays to educate the public about how important it is to give these ground nesting birds some space during the summer. Amanda would be happy to have some volunteers help her so if you're interested please email her.
---
GCBO Seeks RV Host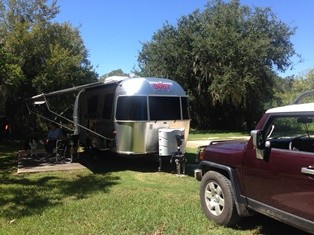 We are seeking summer and fall RV hosts. Come spend a season with us on our beautiful 34-acre forested sanctuary just 5 minutes from town! In exchange for a beautiful spot to spend your time, we ask for assistance around the sanctuary including greeting visitors, doing light maintenance and mowing, and other duties that might come up. If interested, you can find our ad on workampingjobs.com and read the full description. Search for ads in Texas and then scroll down to find GCBO. Or you can check out the description on our website where you can download the application.
---
A Tribute To Gardner Campbell and Leon Skeete
GCBO lost two dear members in the last month.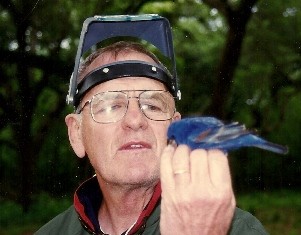 Gardner Campbell participated in work days, helped with the Forest Bird Study group, and was one of our most reliable nature store customers. Every time a new book came in, he would spot it and more often than not purchase it.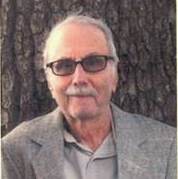 Leon Skeete was an avid volunteer doing everything from packing wheel bearings on our utility trailer to faithfully tending the Purple Martin house and keeping the sanctuary grounds maintained.

As their health declined over the past couple years, we really missed both their cheery faces. All of us at GCBO know they are at peace and we hope they are enjoying the birds.
---
Experiences Auction - Wild Hog Hunt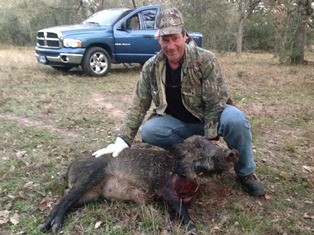 From Valerie Evans - Wild Hog Hunt Winner
Our Experience Auction prize, a Wild Hog Hunt in Goliad, TX, is one that will rank as one of the best adventures we've had the privilege to enjoy. We especially appreciated our host, James Heller, going above and beyond the description of the hunt (fully accommodating two extra guests) to make this a great family memory. His hospitality, wit, culinary skills, generosity, sense of humor and hunting savvy far exceeded our expectations.
Upon arrival, we were made to feel right at home. The Heller Ranch is quite the quintessential Texas time capsule, full of history that James was eager to share. After a brief orientation with our rifles and the quad, and a tour of part of the ranch we got right to the business of the hunt. While Mark is a consummate sportsman, I am a mere greenhorn. The trip was my way of thanking him for those other experiences with something he hadn't done before. And believe me, he had the time of his life...we all did! Walking through the rustic beauty of the Heller estate on one of the most beautiful clear, cool weekends Texas could ever offer was in itself an experience - cloudless blue skies all day, a curtain of stars overhead at night. We are still trying to figure out what connections James has to have made that happen-they must be good ones! He even "arranged" a sighting of Green Jays, gave tips on successful Atwater's Pocket Gopher trapping, and orchestrated a coyote chorus each night.
And I'm not sure if anyone-even me, expected that I'd actually "bring home the bacon"; but apparently I had some great guidance. James was kind enough to set me up, along with my husband for moral support,in a blind. James and Mark sent text messages that they had gotten pigs, and it wasn't long after that I was able to respond with "City Girl got one!"
Purchase your "experience" in November 2016!
---
GCBO Wish List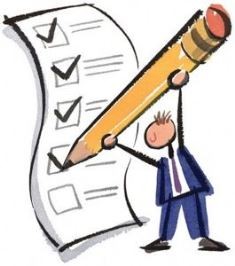 Our wish list has shrunk considerably! Thanks to all who donated. There's only a few items left. Can you help us out? Take a look and see if you can donate any of these items. We will be happy to provide you with a tax donation letter for your efforts!. Thanks so much.
40 inch tv or bigger
pair of bookshelf speakers
washing machine
small chest of drawers
---
Monthly Bird Banding at GCBO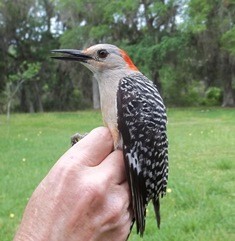 May has come and spring migration is winding down, but there are plenty of birds still passing through. Many warblers and most of the flycatchers come through in May. In April our best bird was this feisty Red-bellied Woodpecker (not a migrant at all!). Come join us and see what turns up in the nets. Bird banding will be on Saturday, May 21 from 8:00 until noon. Remember, the birds get up early so the earlier you are here the more you'll see. Seeing birds in the hand is a great way to get kids young and old excited about wildlife. See the map on our webpage for directions or use your GPS to take you to 299 Hwy 332 West, Lake Jackson, TX.