I Have a Dream

February, 2014
In This Newsletter
Parade Route Clean Up
Ayres and NJHS students from MLK Academy beautify MLK Parade Route
San Antonio Spurs forward/center Jeff Ayres can't always find gardening gloves that fit - but that didn't stop him from pitching in to help MLK Academy Team Up Challenge students clean up the parade route for the largest MLK Day parade in the nation.

Ayres spoke to the students about his own story and path to the NBA, which included playing basketball at Arizona State University and graduating in three years. He encouraged the group - whose project focuses on creating a college going culture at their school - to perservere and to defy the stereotypes set before them.

After the event, students joined Ayres in paying tribute to the iconic "I Have a Dream" speech.Click here to watch the tribute and click here to see more photos from the event.
To see all of the schools involved in the Team Up Challenge, visit TeamUpChallenge.com.
Jr. Rampage Clinic
Rampage players, coaches join Jr. Rampage at the AT&T Center for clinic
Over 30 young hockey skaters in the Jr. Rampage attended the clinic put on by Rampage coaches and players at the AT&T Center on January 14th.

The group ran through passing drills and brushed up on their stick skills throughout the evening. The Jr. Rampage is part of the North Texas Youth Hockey League.

At the end of the event, Rampage Director of Hockey Operations and associate coach Chuck Webber talked to the kids about the importance of practice and putting forth the time and effort on the ice to improve their game. To learn more about the league, click here.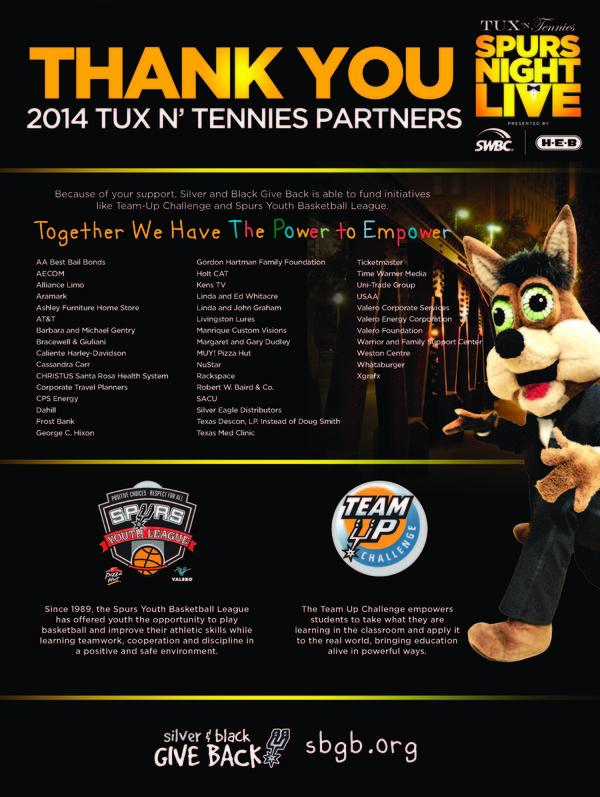 Tux 'N Tennies, presented by SWBC & H-E-B
Spurs Night Live raised close to $1 million for our youth programs
Thank you to all who attended the event, donated auction items, or supported Silver & Black Give Back in a host of other ways. We wanted to extend our heartfelt gratitude for your generous commitment to our mission of engaging young people to enrich their community.

If you were not able to attend, or if you would like some reminders of a fantastic evening, we have a few things that are now available!

Gini Garcia Tux 'N Tennies Glassware -
These glasses - specially designed by Garcia Art Glass - were given to each guest at Tux 'N Tennies as a Thank You from our Host Committee. They come in three random variations and are available for purchase directly from Garcia Art Glass for $60 each. 10% of sales will be donated to Silver & Black Give Back. Order at 715 S Alamo or via email at info@garciaartglass.com.

Tim, Tony and Manu in Brilliant Technicolor -
Artist Malcolm Farley produced 50 giclee replica prints of the "Big 3" painting sold during this year's Tux 'N Tennies live auction. He is renowned for his visions of color and unique ability to capture the moment, the action, and the spirit of his subject. In his distinctive painting style, Malcom blends bold strokes of color with the drama and passion of the characters. The giclee prints, with dimensions of 23"x40" are available for purchase at $1,500 each. To purchase call 210-444-5106 or email Gabrielle Gonzales at ggonzales@attcenter.com.

Check out more great fun from the event by visit sbgb.org where you can see videos and photos from Spurs Night Live.
Rampage Feel the Impact t-shirts available
New long sleeved t-shirts perfect for hockey games
Can you feel the impact? Silver & Black Give Back has special long sleeve shirts for Rampage fans this season.

Stop by section 105 to buy them - for yourself or as a gift! Or click here to buy them online. Shirts are $15 or 2 for $25.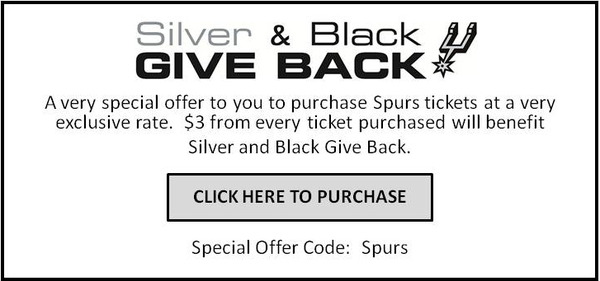 Exclusive Spurs ticket offer for you
A portion of the proceeds will benefit Silver & Black Give Back
We've got just what you need to enjoy a great night in San Antonio - tickets to a Spurs game! Get a great rate on tickets by
clicking here
. The best part? Your purchase also supports Silver & Black Give Back's youth programs.